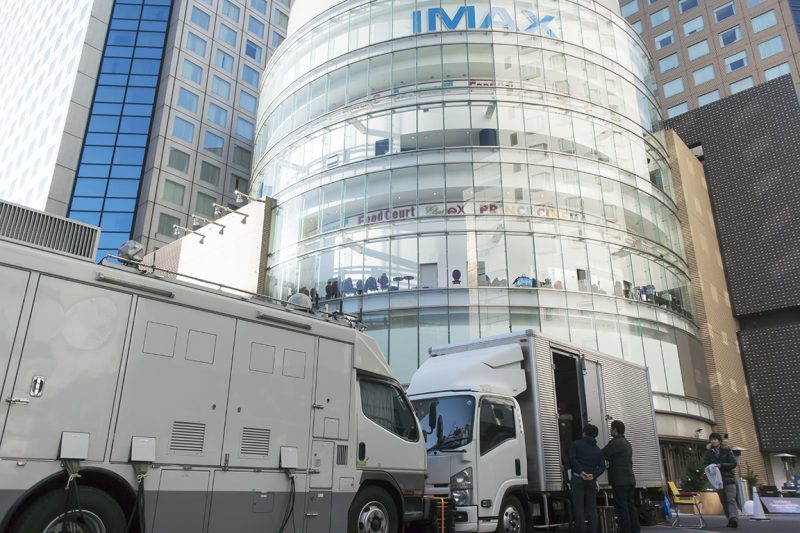 2016年12月18日に品川プリンスホテル クラブeXで行われた「RED BULL 5G 2016 FINALS」において、イベントの映像インジェスト(Edit While Ingest、いわゆる追っかけ編集)とカメラ、および配信番組の制作・配信、イベントチームを含めたワイアレスインカム等の連絡線の統合運用を行いました。
番組については、会場が狭いため、会場外に中継車と機材車を停め、機材車の中にリプレイや画面合成、音声などの卓を組んで対応しました。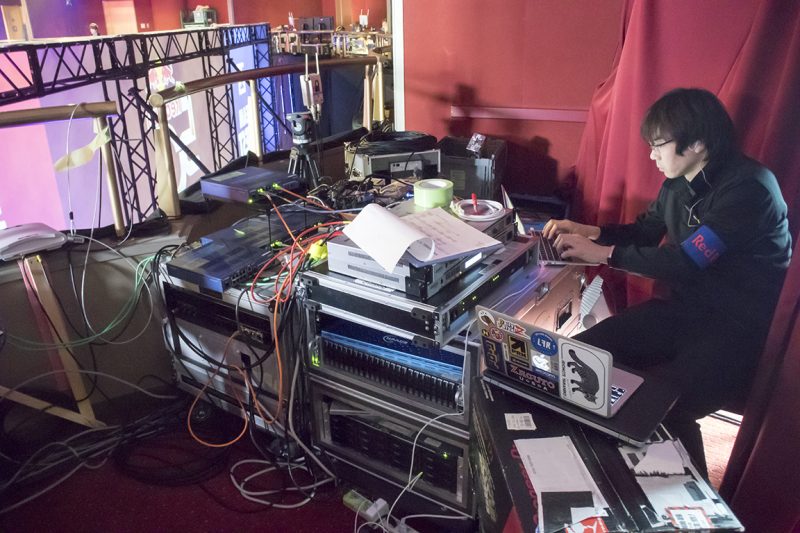 会場内に設置したのは、イベントと番組配信で使用するためのインターネット回線と、配信用のエンコーダー、イベント撮影カメラの収録システムおよび、連絡線のインカム(有線、無線)などと、配信番組のスタジオといった最小限にとどめました。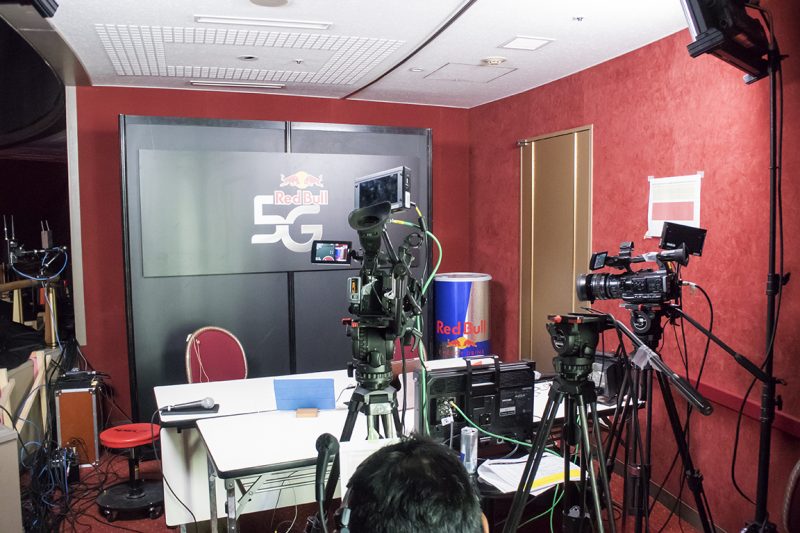 番組配信は、例年どおりtwitch向けに行い、AbemaTV用にプログラムフィードを提供しました。番組に関しては、演出、台本、制作、技術など全てを手がけ、イベント自体に関しても、撮影などの技術と連絡線の構築、インターネット回線の施設などテクニカル面を中心にサポートしました。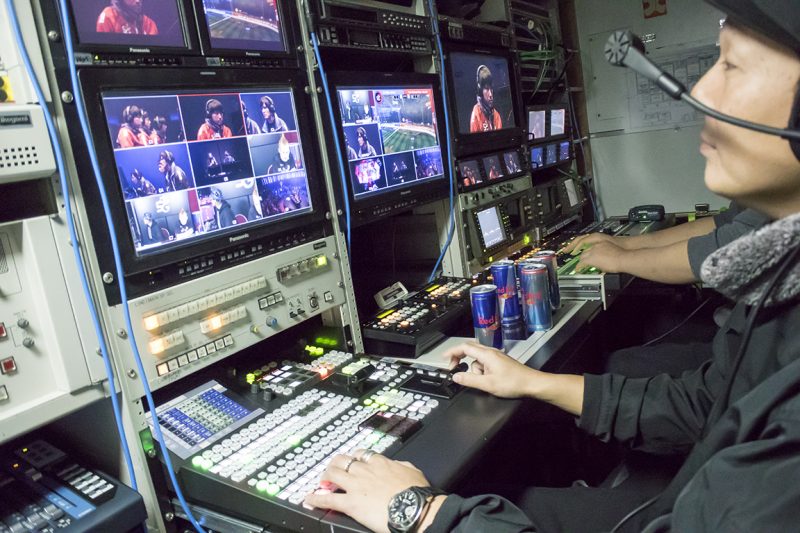 イベント進行系と、配信番組用で2系統に分けてインカムを構築し、イベントのスクリーン出しと配信番組用のカメラスイッチングを中継車のシステムにて一括で行いました。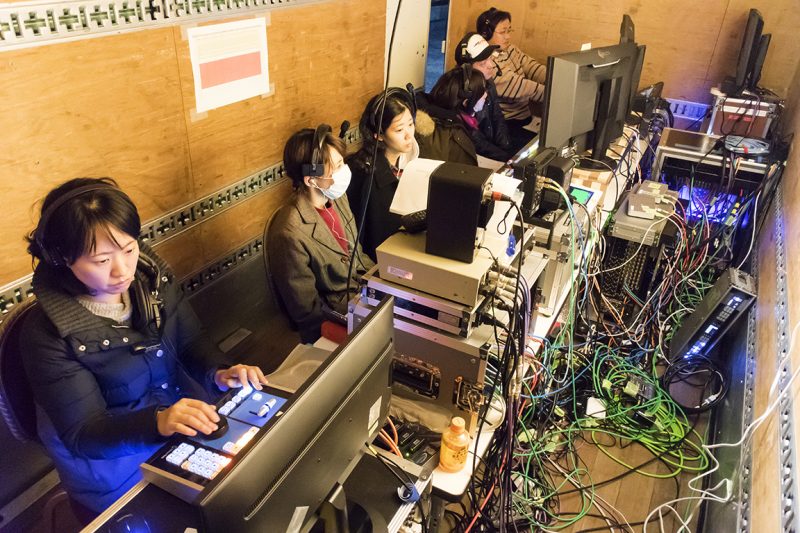 機材車の中に組んだベースでは、配信番組用の画面合成やスコア出し、スローリプレイなど番組演出に特化したオペレーションが行われました。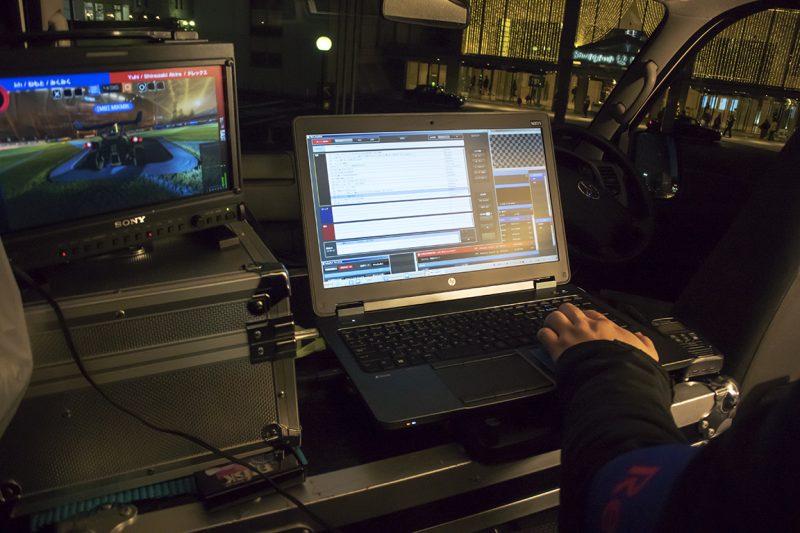 さらに、配信番組内では、FlashベースのFill/Key信号の生成が可能なOACG送出システムを活用し、Twitterに寄せられたツイートを動的に画面の下に常時流す「ティッカー」表示をおこないました。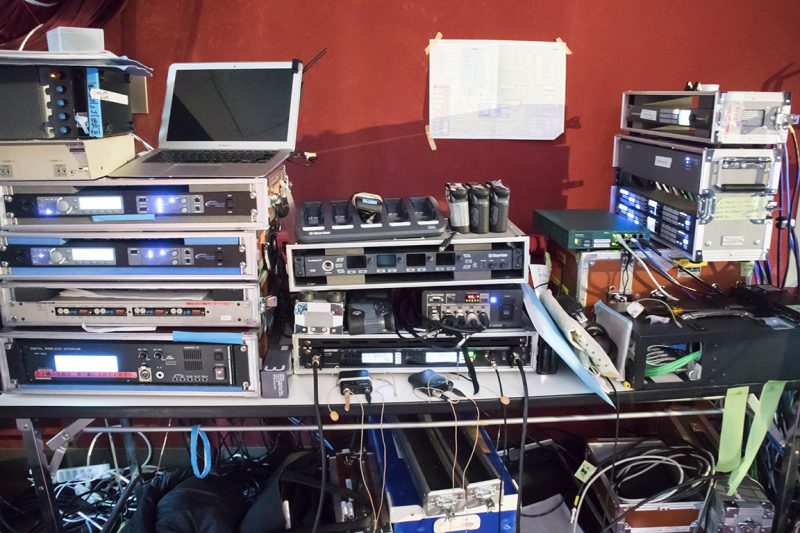 ワイヤレスインカムシステムは、混信の少ない周波数帯を採用した最新型を導入。他のワイヤレス機器との同時運用を可能としました。
Red Bull 5G 2016
2016 WINTER
Internet Live Streaming
Red Bull 5G 2016 FINALS. An annual event, held by Red Bull Japan on the 18th of December, took place at the event hall 'Club eX' at Shinagawa Prince Hotel located in Tokyo, Japan.
We conducted all production operations including; Video Ingest of entire event (Edit-while-Ingest), camera equipment, full production of live streaming dedicated programme, provision of party line intercom system including the event operations team.
In regards to the streaming programme production facilities, the venue was very limited in space so we situated an outside broadcast production van outside of the building. Furthermore, we utilized our emptied equipment truck next to the OB van to set up video equipment for M/Es & replay operations and audio equipment.
Only minimal 'production studio' factor was fixed within the venue. Including; recording system nodal for the live cameras, intercom system equipment, encoders for the live stream along with the temporarily installed internet environment for the stream and event.
The event programme was live streamed on twitch, as we do every year. Additionally, providing programme feed to the AbemaTV team. (Independent subscription based streaming service in Japan)
As for the programme content, all creative aspect of production, direction, scripting and technical aspects were handled by our crew. The event in general was also strengthened with our technical support, mainly for off-shooting, provision of party communication line and preparing the adequate temporary internet fibers.
The general intercom line was organized to split between 2 channels, the event management channel and streaming programme production team channel.
The IMAG system controls for the LED displays and switching for the live stream programme was entirely conducted within the broadcast van system outside.
The technical base that situated within the equipment truck handled the M/Es & scoring graphics, slow-replay (playback) and many more, mainly the aspects to enhance entertainment.
Also, a text animated ticker was applied across the bottom within the live stream programme. Constantly displaying the viewer's public comments, posted to the events official twitter account. The flash based on-air ticker graphics was generated with a OACG system, capable of sending it out as a 'Fill/Key' signal.